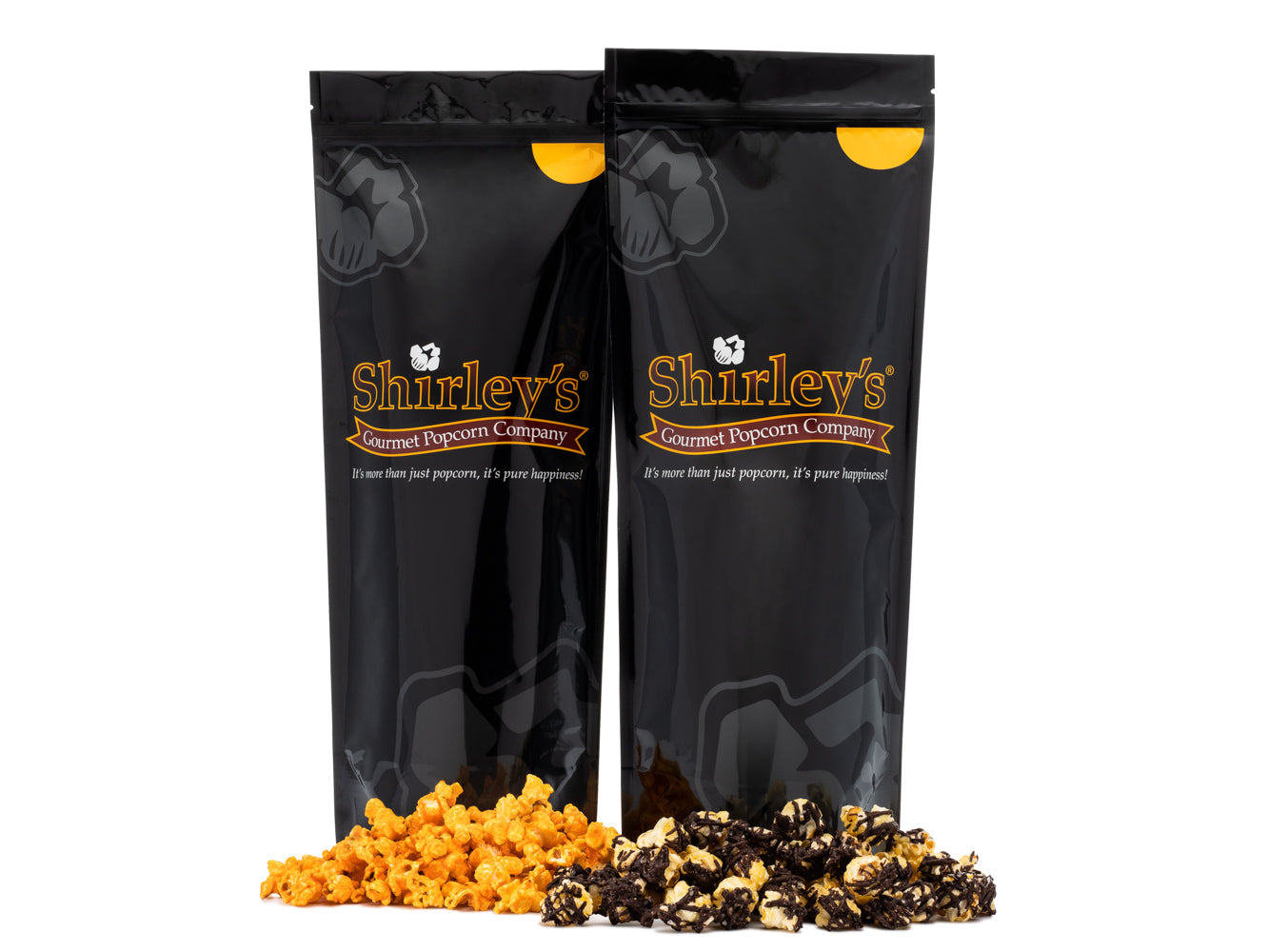 Popcorn of the Month
Month Club Shirley's Popcorn
With the Shirley's Popcorn of the Month club, you can share even more pure happiness with anyone across the country! Delight Grandma with three months of our best seasonal flavors, send snacks to your college student for an entire school year, or even surprise your family with a monthly delivery of our hand-created gourmet popcorn right to your front door.
Each month, we'll create two large bags of our signature gourmet popcorn fresh in our store, carefully package them with a handwritten note, and send them to the recipient of your choice. For the very best variety, each month features one of our up-coming Flavors of the Month, and one of Shirley's Core Flavors, and no two months are alike.
A three-month taste of Shirley's starts at only $119.95...and save even more on a 6-month or 12-month subscription while treating your special someone to different seasonal favorites every month. 
Shipments are typically packaged on the 10th of the month (or the nearest business day) and shipped as close to the 10th as possible. Orders received by the 8th of the month are included in the same month's shipment, later orders will be scheduled to begin the following month. Monthly featured flavors are based on the following schedule (subject to change):
2023 Flavors:
January:

 Oatmeal Raisin Cookie & Windy City

February:

 Red Velvet Cake & Red Hot Cinnamon

March:

 Buckeye & Pepper Cracked Cheddar

April:

 Key Lime Pie & Caramel Nut Cluster

May:

 Pina Coloda & Spicy Jalapeno

June:

 Chocolate Almond & Ragin' Cajun

July:

 Frosted Raspberry Lemonade & Caramel To Die For

August:

 Caramel Espresso & Caramel Apple

September:

 S'mores & Polar Pop

October:

 Bourbon Chocolate Pecan & Cheddar

November:

 Pumpkin Spice & Theatre Style

December:

 Oreo White Chocolate & White Cheddar